BEER MENU
CITRA - 9% Imperial Belgian IPA
Citra Belgian IPA has made it's return for the first time in 2018! Citra is Greater Good's take on a Belgian IPA, meaning that it is hopped up to drink like a hazy, Imperial IPA but features a Belgian yeast that will give hints of a saison while retaining the pillowy mouthfeel of a hazy IPA. Loaded up with Citra hops in the dry-hop, Citra smells and tastes like a fresh dive into a bag of Citra hops!  
EVANA – 10% Russian Imperial Stout brewed w/ Cocoa Nibs  
Coming in at 10% ABV, Evana is not only our first Russian Imperial Stout, or the 5th Edition of our Passport Series...it is also the first beer brewed and packaged at our brand new Worcester brewery! Evana is a smooth and creamy all-season stout showcasing a dark head and lacing, soft palate, and a slight finish of cocoa bitters. The stout lover will discover noticeable roasted malt and smooth chocolate flavors with a very subtle hop foundation. This stout flows like silk and drinks easy.
GOOD NIGHT MOON – 11% Imperial Chocolate Milk Porter
Strong, bold, creamy and delicious. If you're seeking a flavorful porter that means business, Good Night Moon is for you. We've created a traditional-style London Porter with the addition of lactose to give you a creamier mouth feel, a technique famously found in milk stouts. The results are out of this world. Brewed with South American Coffee and Chocolate malts – you'll get unbelievable hints of roasted flavors that only enhance the typical caramel flavors of traditional porter.  
GREYLOCK - 12% Imperial New England IPA
Since New Englanders know a little something about IPAs, we had to bring our best with Greylock. The New England Style is a departure from traditional bitter IBU-packed IPAs, but it is not easy to execute at 12%! Greylock is curiously turbid and cloudy, with just the right amount of hoppiness, big aromatics, and tasty citrus flavor. We paired a special blend of sought-after Pacific Northwest Hops with traditional New England style yeast to give a deliciously juicy and floral Imperial brew that's completely unfiltered, so your palate will enjoy hints of fresh-squeezed grapefruit, orange and passionfruit with every sip!
HELENA - 10% German-Inspired Ale with Cherries
Well hopped and malty with a gorgeous copper red color, our Imperial Sour Cherry Altbier is a balanced, full-bodied and crisp ode to the "Old Style" German classic. We then introduce New England grown sour cherries to our fermenting wort to impart a slightly sour and fruity flavor that blends perfectly for an Imperial brew unlike any you'll try. It's a refreshingly easy sipper for any time of year.
COLLABORATIONS
(PROCEEDS SUPPORT WOMEN IN BREWING)
PAPER FLOWERS - 9% Hoppy Saison
Paper Flowers is a hoppy saison brewed in cooperation with the 
Pink Boots Society
! It utilizes Pink Boots' unique hop blend, along with a carefully selected Belgian yeast to provide a silky, smooth palate. The aroma bursts with bubblegum, banana & clove, while the finish backs up the nose! A portion of the proceeds from Paper Flowers will go back to the Pink Boots Society to help raise awareness and advance women's brewing industry careers by raising money for educational scholarships. We are very proud to be able to be a part of such an awesome cause!
PULP - 8% Imperial IPA
We like to think "8 is the new 5" - this is our second IPA in the 8% series, a more "juice forward" lower IBU IPA that has become so popular here in New England. We dialed the IPA to 8% ABV and transformed the hop profile to include dominant citrusy and tropical notes with minimal bittering notes. A juicy IPA lovers delight with a citrus grove aroma, smooth mouthfeel, and a subtle hazy yellow-orange color. Nectar of the hop gods!
PULP DADDY - 8% Imperial IPA
PULP DADDY is an 8% ABV IPA created as an extension of the popular PULP (Pauls Ultimate Lupulin Protocol) brand; like PULP, this "juice forward" IPA has a predominant citrusy aroma and tastes like nectar of the hop gods! We made one modification to the base process for PULP with a single objective in mind: dial up the haze. Objective accomplished. PULP DADDY is easy-drinking and refreshing with perfect nebulosity and mouthfeel.
RADZ  – 8% Imperial New England IPA
Rotation Nation. Our first edition in the 'RADZ' rotational-hop, Imperial IPA series! RADZ I is double dry-hopped generously with Enigma hops and Ekuanot lupulin powder. The formidable hop combination leads to strong notes of pineapple, honeydew and melon - finished off by a slight, traditional resinous hop character. Smooth, fluffy mouthfeel accompanies a citrus flair on the pallet. Welcome to the RADZ series!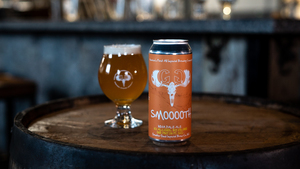 SMOOOOTH - 8% Imperial American IPA
The latest installment of our "8 is the New 5" series, SMOOOOTH was generously hopped with Citra and Mosaic hops, giving it a great balance of citrus vibes including notes of grapefruit and pineapple and a finish that provides mild pine and slight hop resin. SMOOOOTH has a gorgeous golden hue, showcasing a beautiful, orange haze while remaining easy-drinking and refreshing!
"V" - 8% Imperial American IPA
The first beer in our "8 is the New 5" series, "V" got its' name from five different hops that we used in this brew. The combination of hops used produces a balance of dankness and bittering notes. A hop lovers delight. This carefully constructed IPA provides a little more complexity to the foundation of the "juice bomb" style that folks have come to expect from a New England IPA. "V" features tropical citrus, grapefruit, lime, melon notes that come together perfectly in a beautiful, orange-hued masterpiece. And, since we are a proud Worcester County company, we've even selected some Cascade hops grown right here in Central Mass. The perfect latitude and climate for this traditional IPA hop.
THIN AIR by Soul Purpose - 3.9% Gose w/ Pink Sea Salt & Coriander
A tart Gose brewed with pink Himalayan sea salt & coriander, Thin Air comes in at an amazingly crushable 3.9%. The first sip will give you an immediate tart characteristic that is complimented by a slight, smooth salinity from the pink Himalayan sea salt. Hints of coriander accompany a strong wheat finish on this perfectly-timed brew that will put you in a summer state-of-mind. Also great if you are a thirsty Sherpa.
EAZY by Soul Purpose - 4.5% Session IPA
Just in time for Spring, we were able to launch our house brand of session beers, and Eazy is the 2nd beer we've made under that brand. Hopped with Mosaic lupulin powder and Azacca hops on top of a healthy grain bill, Eazy will produce notes of tangerine and melon up front, leading into a surprisingly refreshing oaty finish. Pairs well with some sun and a couple of spare hours!
CRUSH GROOVE by Soul Purpose - 4.3% Session IPA
Oh, hoppy day! We finally get to bring to you, our house brand of session beers called Soul Purpose! The first Soul Purpose beer? CrushGroove! This 4.3% crusher is a departure from the all-Imperial beers that Greater Good has become known for. CrushGroove is brewed with Citra and Mosaic hops, and showcases some potent citrus zest, notes of melon, and an unparalleled crisp finish that provides CrushGroove with optimal crushability! Cheers to the beginning of a new adventure with Soul Purpose Brewing!
DEEPAH SHADE OF SOUL  by Soul Purpose - 6% IPA
Deepah Shade of Soul is a 6% IPA that is loaded up with hops from Deepah Down Undah! Dry-hopped heavily with Galaxy & Vic Secret hops, originating from Australia, and supplemented nicely with Mosaic. The result is a citrusy medley of pear, peach and passionfruit. Finishing with a smooth, refreshing finish. Deepah Shade of Soul pours a bright, vibrant yellow hue and displays a gorgeous medium-haze body that will keep you asking for more! We welcome you to join us as Soul Purpose plants its roots deepah inta Woostah!